As active outdoors people and experienced travellers, we want to share the beauty of this diverse farm area as well as allow guests to return to the rustic luxury of their own secluded private log cabin at the end of a day full of exploring and sightseeing or as many do, relax in front of the roaring open fire with a book.
The desire to build Cascade Creek Retreat was created from a marriage of our passion and enjoyment of travel as well as Dave's time living and building in log houses in Canada and Janene's experience in tourism overseas and within NZ. We wanted to share the magical beauty of our surroundings with others while preserving the environment and enhancing all that there is to offer on our 2000 ha farm.
The result: A little taste of luxury in a little slice of paradise that is Cascade Creek Retreat.
Please enjoy the Cascade Creek Retreat story… where it started, what it has transformed into and the joy it now brings to so many others.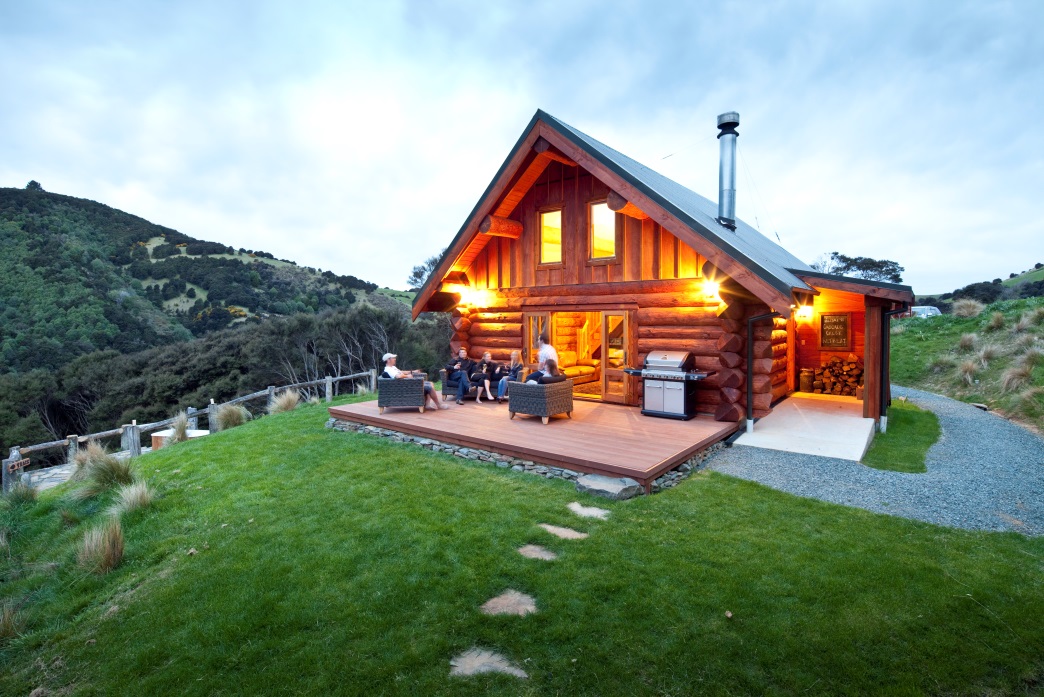 Eco – Tourism in a slice of Paradise.
Our primary focus in the creation of Cascade Creek Retreat was the preservation and enhancement of the natural environment in which the Retreat has been built.
Our vision is to provide a secluded, relaxing, luxurious environment where our guests can get back in touch with loved ones and nature, away from the fast paced life so many of us live these days.
The self-contained log cabin sleeps up to six people, is wheelchair-friendly and is designed to fit within the natural environment. Cascade Creek Retreat's location was chosen as it allows guests to interact with nature as opposed to just observing from a distance. The Retreat sits on a flat spot overlooking a secluded native bush valley, surrounded by our 2000 hectare sheep and cattle property.
The luxurious chalet is completely off the grid and uses both solar power and a small micro hydro unit, gas for the hot water and cooking, and the very popular outdoor bath is plumbed directly to the Retreat to ensure instant hot water. There is no television, computer or cell phone access at the Retreat which ensures you can truly relax and remove yourself from the world.
We wanted to utilise as many natural and recycled quality materials as possible that would enhance the rustic beauty of the property as well as allow us to handcraft many items ourselves. We made a conscious decision to source anything second-hand if possible and only buy materials new where this was not practical. The first questions in the creation of Cascade Creek Retreat were always: do we have this on the farm, or can we source it locally? Daves love for woodworking meant he spent many hours handcrafting old recycled timber into unique pieces of furniture including the kitchen unit, all doors, bedheads, mirrors, bathroom vanity and the huge mantelpiece above the fire. We were also lucky to be able to rescue many windows and doors from the local high school during a refit which we stripped down and reglazed with double glazing to improve heat retention in the cabin. The fire pokers are made from steel from an old tramcar on the property and the main light fittings include parts of recycled farm implements.
Other pieces we recycled included the fantastic Jetmaster firebox, the classic cast iron cistern for the toilet, indoor and outdoor lanterns which we wired up to the electricity and the original hinges on the main side entry door which we were lucky enough to find in our neighbours barn.
Outside, all our stepping stones are from our local quarry, the hardwood posts and railings were from old telephone poles and the cast iron outdoor bath was recycled from an old house.
To keep with our environmentally friendly principles, and the fact we farm sheep and produce a large amount of wool every year we ensured we used wool for insulation throughout the Retreat and the carpets in the bedrooms.
We have been working to create a cohesive experience around the cabin, returning some of the farmland to its natural state. Over the past five years we have been identifying different areas of the property and establishing what the best use for that area is.
We have identified and protected three areas of native bush totalling 170ha, that have significant biodiversity and scenic value with diverse birdlife, rivers, streams and numerous century-old Totara, Kahikatea, Rimu and Matai. The Retreat is located in one of these protected areas.
We have created an annual planting plan of eco-sourced native trees and grasses in order to preserve this for the future and ensure the beautiful bush and rivers are around for future generations. We have chosen to stop grazing a number of native bush gullies in order to allow regeneration of the undergrowth and have already seen wonderful growth and results from this decision. We have also started a 10 year plan of fencing off the properties waterways to protect them from any stock damage to preserve the water quality and protect the native fish (Banded Kokopu), Eels (Tuna) and freshwater Crayfish (Koura) that are abundant in the properties streams. We also are planning a restoration of a significant wetland on the property which will require the fencing of 3 hectares of swampland and eco-sourcing plants to restore the area.
These approaches have led to a number of relationships having been established with the Department of Conservation and Otago Regional Council with key support from them. DOC have been to the property and investigated the waterways for unique native fish in which they found the Banded Kokopu. Otago Regional Council has also assisted in the planning for our wetlands restoration project and a local nursery is helping us to collect seeds from the area and grow these to be replanted in the surroundings in the future. We have also in the past established a relationship with Nic Hurring, who runs Project Kereru in Dunedin, an initiative dedicated to rehabilitating sick or injured Kereru.
There are many kereru on the property. In the past, we found a Kereru that had been attacked by one of the native Falcons that reside in the valley, and took it to Project Kereru. It was able to be rehabilitated back to good health and brought back to Cascade Creek Retreat to be released. Since then, more Kereru have been released into the valley that Cascade Creek Retreat is located in. We will continue the native plantings around the cabin to ensure year round food sources for the many native birds.
Guests often comment on the love and touches that have been put into Cascade Creek Retreat and the surrounding area and we feel pleased to be able to preserve and enhance the Retreat and areas with sustainability in mind. Plans continue to be made and we intend for this to be ongoing during our time on the farm and running Cascade Creek Retreat.
Cascade Creek Retreat – The Build.
From conception to opening, Cascade Creek Retreat was a journey which required vision, passion, planning and many laborious hours. Taking just under 2 years to build, the fulfilling journey has resulted in; 'a little taste of luxury in a little slice of paradise'.
Natural log homes ran a six-week course annually on how to build using logs and Dave enrolled with several other people in 2009, and over the next two years he intermittently attended a few weeks of the courses building log structures.
Knowing we were interested in building our own log cabin, early 2010 we were asked if we would like to sponsor the next year's course. It was here where Dave would learn the art of log building while building our own cabin. Prior to the course, we designed our boutique log cabin including all the unique details, eco-friendly and sustainable principals we wanted to utilize. We then employed an architect and an engineer to draw up the plans.
The first log was hand-peeled in October 2010 and the logs placed on the foundation in April 2011. It took six months to finish the basic build, then six months more to complete the finishing work and the landscaping. It was finally finished during 2012.
There are about 50 logs in the Retreat. The largest 11m long, 50cm in diameter and weighs more than a tonne. The cabin has a 63sqm footprint and another 16sqm of floor space on the mezzanine floor.
The Oregon logs were hand-selected (while still standing as a tree) for their size, straightness and minimal taper from butt to tip. They were hand-peeled and measured for butt and tip diameters, straightness and length.
It was then a repeated process of scribing, chainsawing and laying logs on top of each other with accuracy down to the millimetre. Overall, the highest logs will settle as much as 100mm as all the logs slowly shrink as they dry over four years.
The log shell was handcrafted in Geraldine as the course was completed and then dismantled, trucked down to our farm in a container then reassembled over 2 days. Over the next 6 months during wet, slippery and snowy, wintery conditions, the roof was then added and the interior walls and finishing touches were attended to.
We had a great team here on the farm including our family and staff to help with the huge amount of finishing work both inside and out to help complete the build.
Cascade Creek Retreat for our guests.
Our biggest enjoyment in building and opening Cascade Creek Retreat has been the joy it has provided so many guests by sharing our special and unique spot with others. Cascade Creek Retreat has also offered lifelong memories to many guests. Numerous marriage proposals, honeymoons, special wedding anniversaries and birthdays have been celebrated. In November this year we welcome our first wedding at the Retreat… a couple who were engaged here have chosen to return and celebrate their nuptials in its beautiful surrounds.
Designed to be wheel-chair and disability friendly we have welcomed a number of guests to Cascade Creek Retreat who have informed us they have been unable to 'get into the outdoors and nature' since being wheelchair bound, and visiting Cascade Creek Retreat has enabled them to do this, which, they say, has been life changing. We feel proud and happy to be able to offer this opportunity to others and be able to bring so much joy to them in this way.